It is hard to find something or someone that has yet to be discussed leading into Super Bowl XLIII. Experts, journalists, radio talk show hosts, talking heads, athletes, bloggers, and the loaded dude at the end of the bar who is peeing on your feet, have all discussed (at length) the MAJOR headlines of Super Bowl 43. Ken Wisenhunt and Russ Grimm used to coach the Steelers and both were in line to become the next coach. Mike Tomlin won the job. OK, we got it, end of story.
I have come here to bring to the forefront, someone who needs to be recognized before the showdown in Tampa Bay. Steeler fans need to pat this man on the back, buy him an ice cold Iron, and appreciate the job he has done.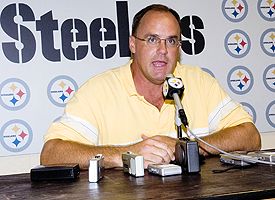 The man pictured above is, Steelers Director of Football Operations, Kevin Colbert. You may not know this, but we have this man to thank for where the Steelers are today.
Coach Tomlin, Coach Lebeau, all the players, and the Rooneys have received most of the credit (rightfully so) for this Super Bowl ride - but it is now time to give Colbert his due.
Colbert is the mastermind of the Steelers draft day war room and the Rooney's have trusted his player evaluations since 2000.
First off, look whom he has drafted - Casey Hampton, Ben Roethlisberger, Santonio Holmes, Troy Polamalu, Lawrence Timmons, and Heath Miller.
Those are just 1st rounders.
Brett Kiesel - 7th Round
Larry Foote - 4th Round
Max Starks - 3rd Round
LaMarr Woodley - 2nd Round
Willie Parker, Nate Washington, Jeff Reed, Gary Russell, and Darnell Stapelton are all un-drafted free agents whom Colbert and the Steelers scraped up off the garbage dump, and dressed up in black and gold.
Oh yeah, and.....James Harrison. Un-drafted, cut twice, placed on practice squad, filled in part-time in '06, team MVP in '07, NFL Defensive MVP in '08.
Out of all the Steelers starters on defense and offense only, James Farrior, Justin Hartwig, and Ryan Clark were not drafted by the team.
Now it may seem like I am suggesting that they rename the team, the Pittsburgh Colbert's......I am not. I just to want to give the dude some cred.
Experts keep on saying that "The Steelers keep finding players that fit their system."
I am trying to say that "Kevin Colbert (and the coaches) keeps finding players that fit their system."

The four horsemen
The players ultimately decide the outcome of each game (that is enlightening, Steve) but, it is the men who decide which players to FIELD, that determine the success of the their TEAM.
###END###
Was that my first serious blog post?
I think so.
I can't go without a terrible analogy or a terrible joke.
A pirate walks into a bar and he has a steering wheel hanging from his crouch. The bartender says "hey you know you have a steering wheel hanging from your crouch!?!?" The Pirate replies "Aaaaaarrrrggghh it's drivin meeee nuts"
That joke was worse than this guy.
Go Steelers.